Freedom 23 Delivered to National Park Service
A Silver Ships Freedom 23 vessel was recently delivered to the National Park Service. The Freedom 23 patrol vessel will operate in Voyageurs National Park located in Minnesota bordering Canada and will further ensure the safety of park visitors.
Silver Ships Freedom series workboat mission is to patrol the waters of Voyageurs National Park. This law enforcement vessel, designed for durability, speed and safety, will allow the National Park Service Law Enforcement Rangers to widen their range to execute duties such as emergency medical services, search and rescue.
Powered by Twin Mercury 150HP outboard motors, the workboat can reach speeds up to 37 knots. The 23-foot boat features an enclosed center console with T-Top, Garmin electronics package, emergency lighting and siren package, lockable weapon stowage and a personnel bow gate to facilitate debarkation and embarkation for officers when beaching and going ashore.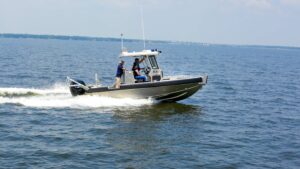 Surrounded by water, the more than 200,000-acre park is a place to explore and experience all nature has to offer. The addition of Silver Ships Freedom 23 patrol vessel will help officers monitor the many large water areas of Voyageurs National Park and enhance the park's safety.
Silver Ships is proud to deliver high-quality custom vessels across the U.S. including National Park Services. For more information on Silver Ships vessels and recent projects, please contact our team or visit silverships.com.