Ambar 800 Named Top 2021 Workboats by Marine News
Silver Ships is thrilled to announce the Ambar 800, Huntington Beach, has been named a top workboat of 2021 by Marine News. The magazine recently highlighted the vessel's unique design, and the specific safety features. Additionally, this workboat assisted in saving the lives of two mariners clinging to their submerged vessel 17 miles off the coast. This award is an honor, and Silver Ships is eager to continue creating these custom vessels.
The 30-foot AM800 vessel is custom designed and outfitted for use as an offshore marine assist and tow vessel supporting operations at Tow Boat U.S. Long Beach and is equipped for extreme, extended offshore conditions. It is built with underwater seams that are continuously welded inside and outside and using 5086 H32 grade aluminum plates, with each bottom plate being a minimum ¼-inch thick.
"Our team is committed to providing solutions to the challenges our customers face in their day-to-day operations on the water," said Dave Hunt, Business Development at Silver Ships.
"The first vessel we designed and built for Tow Boat U.S. Long Beach provided immediate results for its operators, and we're happy for the opportunity to continue helping them build out a fleet that is best equipped and ready to help their clients in need." 
Our team is proud to deliver high quality customized vessels. To read Marine News's Top Workboat of 2021 article, click here. For more information about the Huntington Beach vessel, read Marine News's article, or contact our team.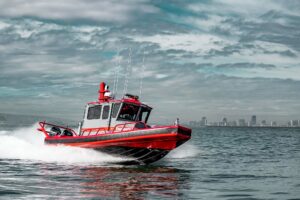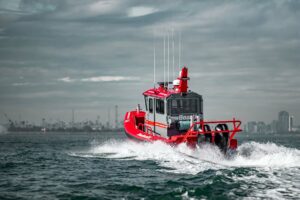 Related Stories:
Freedom 26 Delivered to Quaker Springs Fire Department
Silver Ships Named Small Business of the Year Award Finalist
Silver Ships Delivers Fire Rescue Boats to League City Fire Department in Texas and Bayport Fire Department in New York