Explorer 26 Delivered to Spotsylvania Fire Department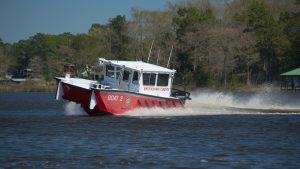 Silver Ships recently delivered an Explorer 26 fire rescue vessel to Spotsylvania Fire Department in Virginia. The 26-foot boat has a landing craft style hull with power operated bow door, allowing for ATV deployment and other mission-specific operations bridging water and land.
The vessel is powered by Twin Suzuki DF175AP, totaling 350HP and reaching top speeds of 37 kts or 43 mph. Additionally, the vessel features a Lowarance NavCom Package including GPS, sonar, chartplotting and structure scan sonar; an FLIR M-324S infrared video camera; an Optimus 360 joystick; and other necessary communication technology to fit the crew's mission needs.
To best equip the vessel for its fire rescue mission, a Hale Attack Max HPX450-B35 fire pump delivers 500 gpm @60 psi, easily accessible dive doors were installed and plenty of bench seating and storage give the crew everything needed to serve its community well during emergencies on the water. A fully enclosed pilothouse protects operators from the elements and allows for the crew to comfortably be on the water for long periods of time, if needed.
We're proud to deliver high quality vessels to fire departments across the U.S., including Spotsylvania Fire Department. For more information about Silver Ships fire rescue vessels, contact our team.