Silver Ships Brings New Boat with Fire-Fighting Abilities to Matlacha/Pine Island Fire Control District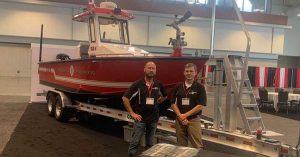 Silver Ships recently had the privilege of delivering a 26-foot Freedom 26 Center Console to the Matlacha/Pine Island Fire Control District that will work alongside the district's 24-foot Carolina Skiff.
The Freedom 26 is designed for first responder and law enforcement missions that require the ability to operate with minimal crew in a variety of conditions. The addition of this vessel to the Matlacha/Pine Island community will give the fire department more flexibility, as it is able to handle weather conditions that the skiff can't. This mission-specific vessel is equipped with a single Suzuki 300 HP motor, Bob's Machine Shop jackplate (to assist in shallow water operation), enclosed T-top with windshield and side windows to protect from the elements, full emergency lighting and a siren system.
The boat includes storage for a stokes basket, a removable dive door with enough room to accommodate a patient on a stokes, and enough stern deck space for an EMT officer and the patient.  These features which will allow the fire department to handle the increasing number of calls it has received recently, no matter the weather conditions or tide.
The vessel will also assist the department in search and rescue missions on the water, with a Garmin navigation electronics package that includes two 12-inch multifunction displays and an integrated FLIR (forward looking infrared) thermal camera.  The Freedom 26 is also equipped with a Darley HE64 Hercules fire pump that is capable of up to 575 GPM flow and twin power poles for anchoring the boat in the shallow waters of Pine Island Sound while operating the fire pump.
With many abilities that could not be performed by the skiff alone, the Freedom 26 will increase the safety of the community and make the jobs of firefighters and first responders a little easier. Silver Ships looks forward to seeing how the addition of this vessel will expand the abilities of Matlacha/Pine Island fire control.
To learn how Silver Ships can customize a boat to meet your specific mission, contact our team today.