Silver Ships Boat Discovered Off the Coast of Ireland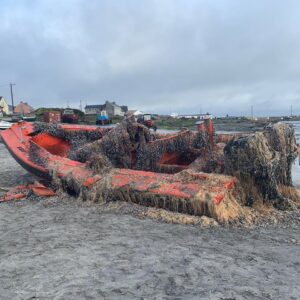 When we say Silver Ships vessels are durable…we mean it! In fact, one of our boats recently made an unexpected trek thousands of miles across the Atlantic ocean.
Crew members from Doolin Ferry Co.were headed to Inis Oirr, a small Aran island near Galway Bay, Ireland when they made an unexpected discovery.
Crew members said they saw a bright orange object in the water and once they got closer, they discovered it was an abandoned U.S. Navy boat. The crew towed the boat back to shore and saw it still had its two engines attached, but they could tell it had been in the water for a long period of time due to the many barnacles on the boat's sides.
Tom Noel, Captain of the Doolin Express, notified the Coastguard of the boat. Doolin Ferry Co. was able to find out that the boat had been manufactured by Silver Ships, and took to Facebook to share their discovery.
Many theories about where the boat came from were posted in the comments section of the Facebook post. However, the truth about the vessel was uncovered quickly, once individuals began reaching out to Silver Ships on social media. The boat is a U.S. Navy High Speed Maneuverable Surface Target vessel manufactured by Silver Ships for the U.S. Navy to conduct gunnery training. This is the 90th boat manufactured on a 2014 contract and was delivered in 2015. The base hull model is a Silver Ships AM800.
It was discovered that the vessel was lost about 75 miles off the coast of Norfolk, Virginia during a missile test and evaluation exercise last September, according to Timothy Boulay of the Naval Air Warfare Center Aircraft Division in Maryland. Boulay said their Atlantic Target and Marine Operations team followed procedure and searched for the vessel for five hours, and then notified the U.S. Coast Guard when they were unable to find it.
Silver Ships has built more than 500 Rigid Hull Inflatable Boats for the U.S. military that are used in U.S. Navy fleet ship and tactical aircraft live-fire ordnance training on designated ranges in the Atlantic and Pacific Oceans. These foam-filled boats are designed not to sink, and this boat certainly survived its 3,300 mile journey across the Atlantic Ocean because of its sturdy design and construction.
"Silver Ships vessels are designed and constructed to support a variety of missions, and are built to be durable in harsh open water operating conditions, which is crucial for these particular boats," said Shawn W. Lobree, Silver Ships Federal Contracts Manager. "We are proud to help contribute to the deployment readiness of the U.S. Navy by delivering high-quality workboats for the past 20 plus years." Lobree is a retired Navy captain and serves as the manager for Silver Ships' Navy boat portfolio.