Deputy Assistant Secretary of the Navy and Program Executive Officer, SHIPS visit Silver Ships
Silver Ships was recently visited by Mr. Frederick J. Stefany, Deputy Assistant Secretary of the Navy for Research, Development and Acquisition and Rear Admiral William J. Galinis, USN, Program Executive Officer, SHIPS. The visit was designed to display production facilities for a leading manufacturer of U.S. Navy aluminum workboats.
Currently, Silver Ships is producing multiple 11-meter rigid hull, inflatable boats (RHIBs) for the Navy called the Naval Special Warfare Surface Support Craft (NSW SSC), as part of a five-year Indefinite Delivery, Indefinite Quantity (IDIQ) contract. The family-owned small business concluded another IDIQ contract in August of this year for an eight-meter RHIB called the High Speed Maneuverable Surface Target, or HSMST.
Silver Ships is a leading manufacturer of target training boats for the U. S. Navy's Seaborne Targets program, and for the past two decades has built more than 500 of these boats for the Navy. The HSMST is primarily used for live-fire ordnance training for operational ship and aviation forces, while the NSW SSC is used to support special forces dive and swimmer training operations.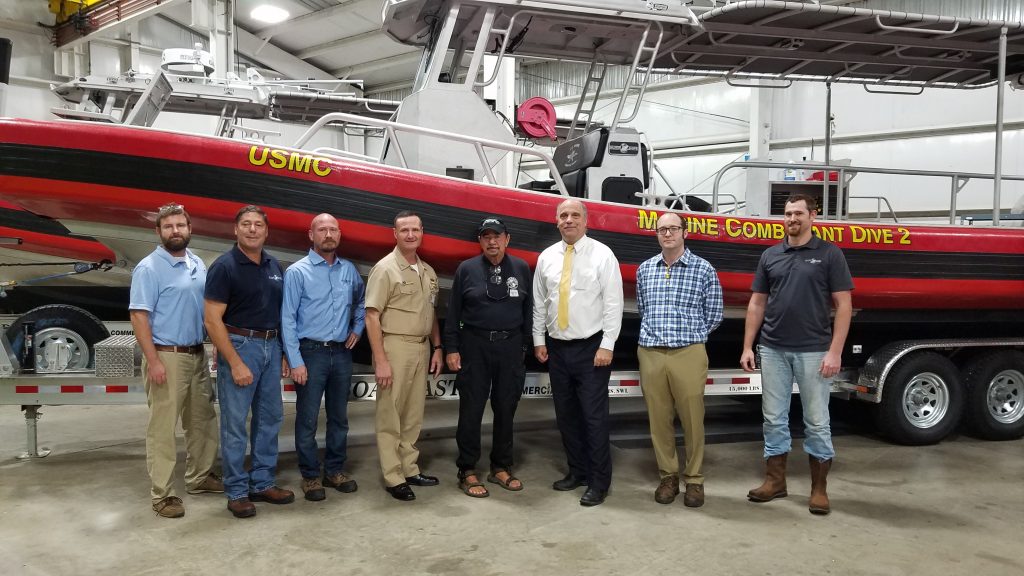 Silver Ships showcased their production facilities and highlighted their efficient and improved workflow throughout their Theodore boatyard. "I am impressed with Silver Ships' level of quality and attention-to-detail. Their efforts to continually improve their production with industry best practices and lessons learned is inspiring," said RADM Galinis.
"We appreciate Mr. Stefany and Rear Admiral Galinis taking time to visit our boatyard. They are well-versed in major warship, landing craft and boat industrial production capabilities and initiatives, and they are constantly seeking to stay abreast of changing technology and production practices in these yards," said Shawn Lobree, a retired Navy captain and Silver Ships' Federal Contracts Manager. "We are proud of our boatyard and team, and we're always pleased to provide a detailed tour for our customers and visitors."
Amongst a broad range of workboats for the U.S. Military and other federal, state and local customers, Silver Ships' all-aluminum military vessels are designed and manufactured to accommodate unique systems and missions. These mission-specific vessels are built up to 65 feet in length. Military uses include harbor security and force protection applications.
To learn more about Silver Ships vessels that operate for the U.S. military or to find out how our team can customize a vessel for your mission-specific needs, contact our team.