Boat Series
Silver Ships builds customized aluminum vessels that follow design standards based on our four series of boats – Ambar, Endeavor, Explorer, Freedom and Catamaran. Each series includes various standard features and sizing options, as well as mission-specific outfitting capabilities.
Click on each series to learn more about its build, features and most applicable mission applications. 
Freedom Series
Freedom Series vessels feature an ergonomically designed platform for single officer operation. Typically used for law enforcement, Freedom Series vessels are designed with the needs of the boarding officer in mind.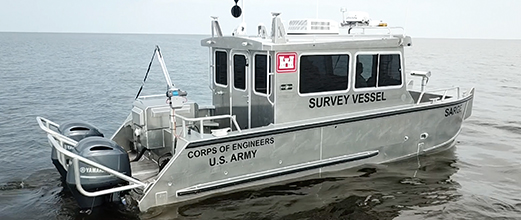 Catamaran Series
Catamaran Series vessels feature a stable planing catamaran hull form. These vessels are often used for hydrographic surveying operations, as its design provides ample room for a spacious cabin and working decks.